The Steering Committee meets monthly to decide priorities and to work on ongoing projects. Meeting dates should be listed in the calendar on this website.  We could always use a few extra hands, fresh energy, and new ideas. If you'd like to attend a meeting or get more involved by joining the Steering Committee, contact Ed Olhava, Bike Newton's President.
Ed Olhava, President
Ed Olhava is a dedicated cyclist and has biked within the greater Boston area for work, errands and fun since 1997, when he moved to Boston from California. Ed has been a Newton resident since 2008, and chose our community in part due to its walk/cycle friendly nature for his kids, and the ability to commute by bike and/or public transport throughout the metro Boston communities.
Ed is dedicated to improving bicycle access and safety throughout Newton, particularly for children who cannot drive to and from school! Ed's goals for Newton are to promote safe cycling to/from schools, make our village centers more bikeable, create more protected bike lanes that connect our villages, and work with surrounding cities and towns to better connect our bike networks.
While not working for cycling access in Newton, Ed is a Senior Vice President at a Boston biotech, IFM Therapeutics, where he researches new treatments for oncology and inflammatory diseases.
Nathan Phillips, Director

Nathan Phillips is a Professor in the Department of Earth and Environment at Boston University,  and Directs the Earth House Living Learning Community at BU.
Nathan commutes by bike between Auburndale and BU, rain or shine (except when roads are icy).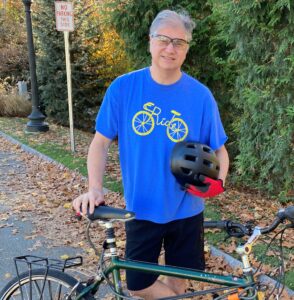 Jonathan Frankel, Treasurer
Having relocated from out of state in 1994 I consider myself very fortunate to have raised my family in Newton. Biking with family and friends in our city and the surrounding areas has become one of my favorite pastimes.  After discovering the Charles River Path and Esplanade I eventually became a bicycle commuter to the Boston Seaport District.
Although the Garden City is a wonderful place for biking I believe we can come together as a community to make it better. I view biking as an expression of freedom and am proud to be a part of Bike Newton.
I am a Certified Public Accountant and retired from JP Morgan in 2021.
Srdjan Nedeljkovic, Director, Policy Adviser

Dr. Nedeljkovic is an anesthesiologist and pain medicine specialist based at the Brigham and Women's Hospital, a major teaching affiliate of Harvard Medical School in Boston, Massachusetts. He is the President of the Newton HighlandsNeighborhood Area Council and has served on the Newton Comprehensive Planning Advisory Committee and the Crystal Lake Task Force. He is a founding member and the Treasurer of the Crystal Lake Conservancy. He has served on Newton's Mixed Use Task Force, on the Transportation Advisory Committee and Group and is a member of the Arborway Committee in Jamaica Plain. He has been a long-time member of Bike Newton, where he serves in the role of Policy Advisor.
Nathan Aronow, Vice President, Ride Coordinator, Web Administrator

One of the ways I contribute to Bike Newton is by planning and leading Group Rides.  For me this is a very hands-on way to pull people into the activity and show them how much fun getting from point A to point B can be!  I do believe bicycling is a "win-win-win" activity for people of all ages, and something that can and should be incorporated into people's daily lives here in America as it is in much of the world.  Beyond the purely personal level, I believe that bicycling needs to be part of the solution for our planet's environmental problems.   I enjoy working with BikeNewton because of its mission to promote safe bicycling as not only sport and recreation but also as transportation.
Maria Beatriz Arvelo, Art and Culture Liaison
My family and I like to bike. Why drive if you can bike? Biking is way more entertaining! Being part of Bike Newton is a wonderful opportunity to help improve the safety of biking, so more people can bike without the risk of getting hurt, which unfortunately happens way too often these days.  I think there is a lot of work to be done to get on the right track for the health of the planet, and for our own personal health, too; they go hand in hand. Getting more people on bikes is part of the answer!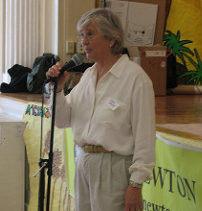 Lois Levin, Director, Founder, President Emeritus

Lois Levin is a clinical psychologist who also has training in conservation biology. She serves on the Legislative Action Committee of the LWV of Massachusetts.  She founded Bike Newton in 2007 with a main goal of making Newton a bicycle safe city, prompted when the city applied for (and received) an exemption from providing state-mandated bicycle lanes on Walnut Street. By the time she resigned her role as President in 2012, when Mayor Warren appointed her to be Newton's first Bicycle Coordinator, our membership had grown to over 600 families.
Helen Rittenberg, Director, President Emeritus
Helen Rittenberg, an elementary school teacher and principal for 29 years, later became an educational psychologist in private practice, specializing in diagnostic evaluations of children with learning difficulties. Her interest in biking began at age 4, when she taught herself to ride her sister's 20″ Raleigh with hand brakes by riding along the sidewalk balanced on one pedal, since she was too small to reach the pedals from the seat. She's been biking ever since, with time out while living in NYC (before there were bike lanes). She has been on the steering committee of Bike Newton since its inception and was elected President in January, 2012.
Bob Jampol, Media Publicist

Bob Jampol has been living in Newton on and off since 1970. He taught English at Newton South High School for 34 years until retirement, and he has been coaching tennis there since 1982. Bob used to be a columnist for the Newton Tab for many years and under many editors. He now writes for Village 14.
Bob co-founded and currently heads the Friends of Newton Tennis. He also volunteers his efforts for BikeNewton and the Friends of Cold Spring Park. In addition, Bob serves on the Waban Area Council, and chairs the Purim Fundraising Drive of Yad Chessed. He also served a term on the Newton Human Rights Commission. An avid cyclist, he bikes all over Newton and loves the Garden City!
John Pelletier, Director, Transportation Engineer

John Pelletier is a transportation project manager at Harvard University.  He chairs the Bike Advisory Committee which works on specific city projects or policies to improve bike access around Newton.  John didn't learn to ride a bike until middle school and didn't start riding for most trips until a study abroad trip to the UK in 2009.   He has been a ride leader for the Tour de Newton since it started and has worked with SRTS on bike trainings for middle school students.  He and his wife live car-free in Newtonville and he can often be seen carrying something on his bike!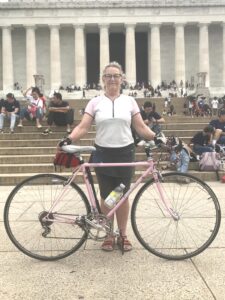 Jane Hanser, Member at Large

Jane is a former amateur bike racer, the proud owner and user of a pink Colnago, and a citizen advocate for bicycle safety. She has advocated for bicycle and pedestrian safety along Newton's portion of the Commonwealth Ave Carriage Road and for the development of the Carriage Road into a safer and more pleasant Bicycle/Pedestrian Priority Roadway, commonly known as "Carriage Road 2-Way for Bicycles". She's gratified to see a steady increase in the number of people of all ages bicycling in Newton since 2000, when she moved here.